It is a testament to KFC's self-confidence that they have made non-deliveries a PR success. Most would flounder, making statements about how they've "not murdered babies in their cots" but at the end of the day, it is just chicken if you live in South London head to Morley's.
As a regular KFC attendee and, dare I say it, a fan of the fast food joint it is clear that this isn't the first or last problem KFC has had in the last few years. For example, the ordering system changed resulting in a weird 'Argos' style system of ordering and paying at one counter and having to wait for your meal which would be handed over after presenting your ticket. I still struggle with it, as with other places that have introduced it (McDonald's) it is slower the made to order concept just isn't important if you have ordered a standard menu item. I find more errors have been made, particularly for example a recent experience when the cashier took my order wrong and was unable to void it so the staff making up the order had no idea it was incorrect. Communication at a basic operational level shouldn't be a problem for a company as big as KFC. One friend of mine had to wait 17 minutes for his meal. These experiences are not why people go to KFC; it needs to be quick and it needs to be reliable.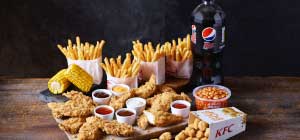 I live in outer London, well served by not just KFCs but chicken shops in general but KFC's biggest issue seems to be its lack of central London presence. McDonald's, Burger King and even the more high-end fast food joints like Leon have no problem with central locations, often close or in train stations for example. KFC recently sold up one of their biggest central London locations in Leicester Square to Shake Shack. If you cannot make it Leicester Square, can you make it anywhere? In response, new KFCs have opened, including a new one in Borough but ultimately I question whether KFC can not only compete with central London rents but the rise of Morleys and other chicken shops that have made their presence across London, offering a cheaper and in some cases nicer alternative to KFC.
In my experience delivery problems are not new; in Southampton, I had to change my order as the poor assistant revealed they hadn't had a delivery of buns. This was in 2017. KFC's Chicken Coop, an online focus group, keeps promising new chips in response to criticisms that have dogged them for years; they just aren't very nice.  They've also discussed new side options (like mash, which feature in Europe, North America and even in chicken rival Nandos) and it does feel like they want to regenerate a brand that many still trust. The recent collaboration with Just Eat shows it is a brand listening to what its audience want.  They make the right noises, as this public apology shows, but I am sceptical that they have truly dealt with this issue, just as they have failed to deal with the other issues that can make going for some chicken a slow and stressful experience.